Posted by Courtney Friend on
Beware The Dangers of Caffeine Deficiency Syndrome!! Caffeine Deficiency Syndrome is no laughing matter. It affects millions of people every day who don't get their daily recommended dose of caffeine. The lack of proper caffeine levels in their system prevents them from functioning normally. Symptoms include:  Drowsiness Staring at walls The inability to tolerate others Laziness General irritability Loss of patience with morons Desire to punch something or someone Headache Depression Sleeping while upright Constipation Brain fog If you or a loved one are having any of these symptoms, know that you are not alone and that help is out there. Combat Coffee + Tea has...
Posted by Mitchell Hamilton on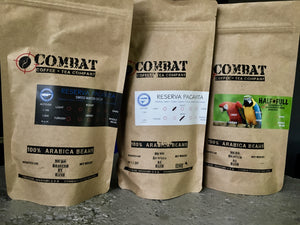 We are proud to offer three new options to our coffee lovers! All three are sourced from the Pacavita region of Honduras. These beans were organically grown, hand picked and sun dried on concrete patios, resulting in a very nice bean with  profile flavors consisting of sweet, citrus, lemon, cocoa, raisin and black cherry. First we have our Reserva Pacavita.  Second is the Reserva Pacavita Swiss Water Decaf. 99% decaf without the use of chemicals. Last but not least is our Half Full Blend consisting of 50% regular Reserve Pacavita and 50% Reserve Pacavita Swiss Water Decaf, giving you the option...