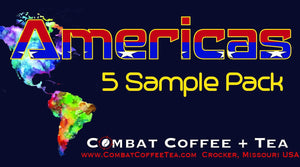 Americas - 5 Sample Pack
Americas - 5 SAMPLE PACK
Order Both the Americas and Global Roasts Sample packs for $34.98. Select both above the Add to Cart button.
Our Americas Sample pack is the perfect way to try out 5 of our delicious coffees from Central and South America. Each Single Pot Pack contains 2oz of Single Origin Coffee in a Medium (Drip- Machine Drip) Grind, Perfect for making 1 pot each.
Coffees Included:
Ghost - Light Roast - Honduras
Lady Liberty - Medium Roast - Costa Rica
Riveter - Medium Roast - Colombia
Victory - Medium Roast - Guatemala 
Founders - Dark Roast - Guatemala
Great as a gift or to find your new favorite coffee!