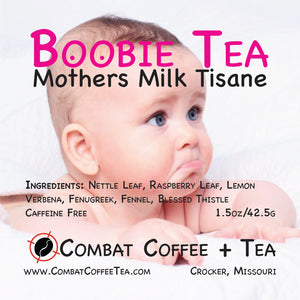 Boobie Tea - Mothers Milk Tisane - Loose Leaf - 3 oz
Boobie Tea - Mothers Milk Tisane - Loose Leaf - 3 oz : An age-old blend of herbs to support mothers with lactation while helping the digestive system with a boost of iron, calcium, vitamins and minerals


Ingredients - Nettle Leaf, Raspberry Leaf, Lemon Verbena, Fenugreek, Fennel, Blessed Thistle
3oz
Loose Leaf Herbal Tea
Caffeine Free
Instructions: Using fresh cold water, Heat to 212° boiling . Use 2-3 grams per 8oz of water. 
for educational purposes only
This information has not been evaluated by the Food and Drug Administration.
This information is not intended to diagnose, treat, cure, or prevent any disease.
please be advised: 
you should always consult with your doctor
before making any changes to your diet!!