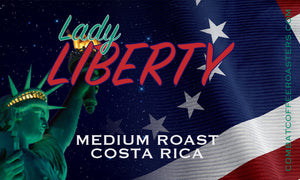 Lady Liberty - Medium Roast - Costa Rica
Lady liberty - Medium Roast - Costa Rica
All orders placed before 10AM CST will roast and ship same day (Tue-Fri)- (excluding holidays)
Costa Rican coffees are rated some of the finest in the world. These coffee beans are grown at high altitudes, above 3,900 ft, allowing them to be designated SHB (Single Hard Bean) – the highest classification in the Costa Rican system. 
Single Origin
Fair Trade
Acidity & Brightness: Bright
Balance & Finish:  Balanced
Body & Texture: Medium
Flavors: Strawberry, Cane Sugar, Almond, Cocoa
Processing: Natural
Varieties: Caturra and Catuai
Location: Tarrazú
Species: Arabica

Elevation: 4,000 – 5,300 ft.

Drying method: Patio

Harvest period: December - February 

Grade: Strictly Hard Bean